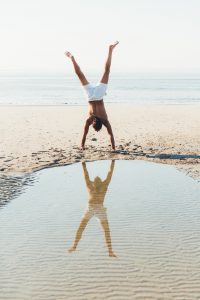 Your body is remarkable!  And in particular, your immune system is nothing short of amazing.  The body's immune system is constantly fighting to defend itself against thousands of bacteria, toxins and viruses that are both inhaled and consumed each day or which invade the body through open wounds like cuts and scratches.  It's our immune system that keeps us alive.
REGULATING YOUR IMMUNE SYSTEM WITH ACUPUNCTURE
Chinese Medicine practitioners have been dealing with immune system disorders for thousands of years.   By regulating energetic imbalances in the body, a combination of Acupuncture and Chinese herbs can be a very helpful way to bring you back into good health and to safeguard your immune system.
HAVING A WEAK IMMUNE SYSTEM
In Traditional Chinese Medicine (TCM) we see a weakened immune system as being the result of Qi deficiency in the Lungs and the Spleen.  This can be caused by lifestyle factors such as poor diet, hectic lifestyle and genetic predisposition.  Acupuncture treatments are focused on primarily tonifying the Lungs and the Spleen.
HAVING AN OVER-REACTIVE IMMUNE SYSTEM
We see that an over-reactive immune system is brought about by Qi imbalance usually starting in the Kidneys.  TCM treatments normalize this imbalance so that the body recognizes which attacking pathogens are harmful and which are harmless.
TREATMENT
The key here is that an experienced Dr Chinese Medicine does not treat the symptoms like a cold, flu or type of allergy, but instead brings the patient's immune system back into balance and harmony so they can return to good health.  The bonus to achieving this long term improvement to the immune system can often be noticed in other areas of the body which may not have been initially considered as a related immune system problem.  Improvements in skin condition, energy levels, sleep quality, etc can be all welcome side effects of regaining a strong and healthy immune system.
REGULATING YOUR IMMUNE SYSTEM WITH CHINESE HERBS
Chinese herbs, in particular formulations containing adaptogenic herbs have strong immunity-enhancing effects.  Taking a course of Chinese herbs prescribed by your Acupuncturist may make a big difference – if your immune system is too weak, the herbs will strengthen it; if your immune system is over-reacting, specific formulations will calm things down.