by Practice Manager, Bethrene McAuliffe

"We are like Tea … We don't know our own strength until we're in hot water"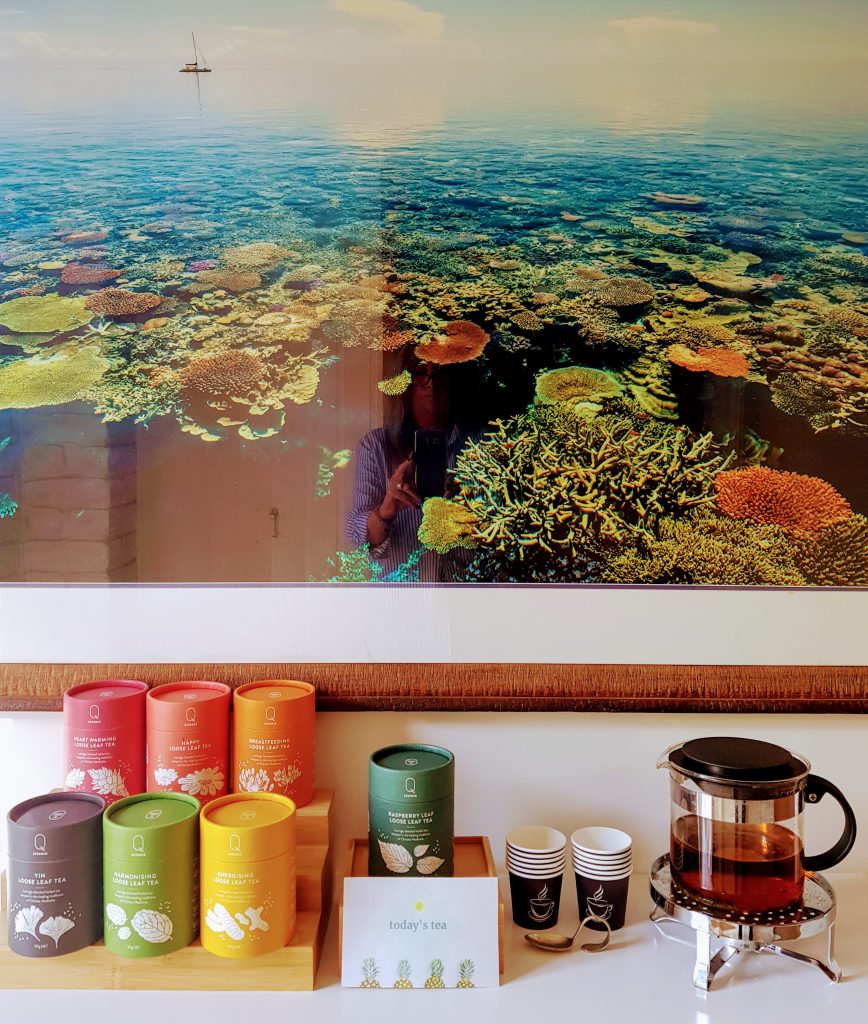 Drinking a cup of tea has been a popular social past-time for thousands of years.  But, it's not only the ceremony of taking tea that is a pleasure, there are many health benefits to be gained.  Herbal teas in particular provide specific benefits including improved digestion, detoxification, better blood circulation and encourage physical and emotional healing.  Rich in vitamins, minerals and especially antioxidants, herbal teas can assist with health benefits such as relaxation, recovery and refreshing of the mind.
The herbs in the Q.Essence range of teas that we serve at our clinics are of the highest quality possible.  Certified organic by the ACO, the herbs used are free of sulphur, heavy metals and pesticides making it better for the consumer and of course, for the planet.
There are seven blends in the current Q.Essence range developed by Melbourne Doctor of Chinese Medicine, Annalise Drok.  Here at our clinics, we love that each blend of tea thoughtfully designed by Annalise is based on well-known historical Chinese medicine formulas used for thousands of years, making the teas therapeutic as well as delicious to drink.  This is why we always have a fresh pot steeping, ready and waiting for you in clinic.
You can soon see for yourself upon opening the 100% plastic free packaging just how exquisite and vibrant the dried herbs are in colour, condition and aroma.  In fact, some of them look like the prettiest potpourri you've ever seen.  A sealed biofilm bag keeps the tea fresh while it sits in its beautiful colourful canister crafted from cardboard – all proudly designed, printed and made in Melbourne.  The empty canisters can be re-purposed for many different uses and it's good to know that they are home compostable.
See below for the current Q.Essence range of herbal teas available for purchase at both our clinics in Morningside and Mackay, and of course through Q.Essence online or the Quiescence Chinese Medicine Clinic in North Fitzroy, Melbourne.  RRP $24.95 each.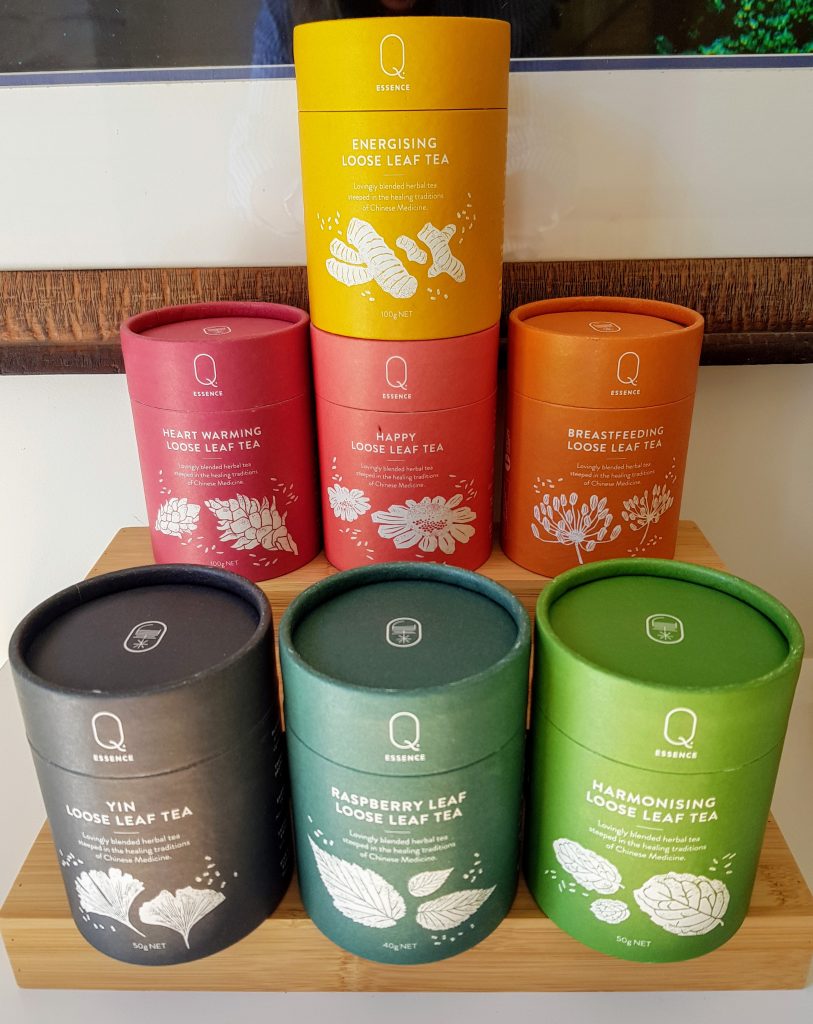 ENERGISING A fresh and invigorating blend filled with turmeric, ginger and lemon verbena.  Designed to invigorate both Qi and Blood circulation, support digestion and bolster immune health.  A delicious choice for anyone wanting to get the most out of life.
BREASTFEEDING An earthy yet refreshing blend of well-known galactagogues including fenugreek, fennel and nettle.  Specifically blended for breastfeeding mums to maintain a healthy milk supply and encourage physical and emotional healing.
HAPPY A sweet floral blend with organic chamomile and rose.  Designed to open and nourish the Heart Qi this delicious blend is based on a traditional formula used to 'return lost souls'.  Q.Essence like to think of it as an herbal chocolate equivalent.
HEART WARMING Filled with ginger, cinnamon and cardamom this beautiful tea warms and vitalizes the senses.  Specially blended to support the Heart Qi and digestive system this is an excellent choice for brightening cold winter's days and helping those suffering with weak digestive function. A strong favourite at our Morningside clinic.
HARMONISING A delicious blend of organic peppermint, fennel, chrysanthemum and licorice, this harmonizing tea is designed to both soothe the Liver Qi and support digestion.  It is recommended to enjoy a cup after a heavy meal to help curb sugar cravings.
RASPBERRY LEAF For the expecting mum or to ease painful menstruation.  Raspberry leaf is a uterine tonic commonly used to prepare the body for birth.  Combined with a littler peppermint and rose this is a delicious blend designed to support women's health.
YIN A cooling blend of powerful Yin tonics including organic peppermint, chrysanthemum and schisandra.  Designed to soothe the Liver Qi while supporting healthy circulation.  An excellent choice for anyone wanting to stay cool, calm and clear headed.
When next you are in clinic, please help yourself to a cup of herbal tea – it's a bottomless cup here, so enjoy before or after your treatment … or why not both?! Bx